Cinema HD v2 Features, Compatibility, Pros & Cons In 2022
Cinema HD v2 Features, Compatibility, Pros & Cons In 2022
One of the most used video streaming and downloading applications for Android, Cinema HD APK has been around for a few years and has amassed a large, loyal following. In this article, we'll take a look at what Cinema HD is, its features, and the pros and cons of using it. We'll also answer some frequently asked questions about it. Let's get started!
An Overview of Cinema HD
It is a free streaming app that allows users to watch their favorite movies and TV shows on demand. The app is compatible with Android, iOS, and Windows devices.
It offers a wide range of features, including the ability to stream in high definition, access to a library of over 500,000 titles, and support for subtitles. If you're looking for a way to watch your favorite movies and TV shows on-demand, Cinema HD is definitely worth checking out.
Features of Cinema HD
A feature-rich app that provides users with a wealth of options for watching movies and TV shows, Cinema HD v2 comes with the most useful features including its integration with Trakt. This allows users to keep track of the movies and TV show episodes they have watched, as well as those they have yet to see.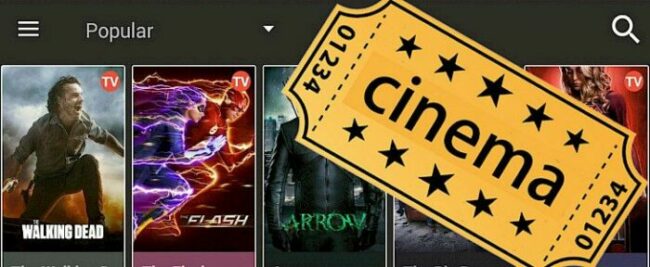 Additionally, Cinema HD provides users with the ability to add movies and TV shows to their personal watchlist. This makes it easy to ensure that you never miss an episode of your favorite show. Other remarkable features of this app are as follows:
1: Simple and Easy UI
The user interface is simple and easy to use, making it a great choice for those who are new to streaming services. The main screen displays a grid of movie posters, with the currently playing movie or TV show in the center. You can browse through the library by genre or search for specific titles. 
2: Large selection of Movies and TV shows
There's never been a better time to stay home and binge-watch your favorite movies and TV shows. Thanks to the large selection of movies and TV shows available on Cinema HD, you can always find something new to watch. 
Whether you're in the mood for a classic film or a new release, Cinema v2 HD has you covered. And with new titles being added all the time, there's always something new to discover. So why not curl up on the couch and enjoy the best that Hollywood has to offer? 
3: Chromecast and Device Support
It is a free movie and TV streaming app that works on many different devices, including Android TV, Amazon Fire TV Stick, Roku, and more. And now, you can add Chromecast to the list of supported devices! 
With Chromecast support, you can now enjoy your favorite Cinema movies and TV shows on the big screen. Simply connect your Chromecast device to your TV, and then open the Cinema HD app on your phone or tablet. Tap the cast icon, and then select your Chromecast from the list of available devices. 
Pros & Cons of Cinema HD
No app is flawless and Cinema APK is no exception. The CInema HD v2 app also has its advantages as well as disadvantages. Check them below:
Pros
It is a great way to stream the newly added movies & TV shows

There are no commercials, so you can watch your shows uninterrupted

You can also download shows and movies to watch offline

It's a free app, so you don't have to pay for a subscription
Cons
You can't find it on the App Store and Google Play Store so it can be tricky to download it

The quality of the streams is sometimes HD, but other times they are lower quality

Users often download malware instead of the app so always use Mcafee Siteadvisor for safety
Frequently Asked Questions (FAQs)
Q1. Is the Cinema HD APK legal to use?
Cinema HD allows users to stream movies and TV shows for free. While the app itself is legal, streaming copyrighted content (e.g. movies and TV shows) without the copyright holder's permission is illegal in most countries. This means that if you use Cinema HD v2 App to watch pirated content, you could be breaking the law. So, we recommend you use a VPN.
Q2. Is Cinema APK available on the App Store and Google Play?
Unfortunately, Cinema APK is not available on either the App Store or Google Play. However, there are a few ways to sideload the app onto your Android device. You can use our website for downloading the Cinema HD APK.
Read More: CINEMA HD V2.4.0 ON ANDROID [DOWNLOAD & INSTALLATION STEPS]
Q3. How to Cast Cinema HD to TV ?
To cast Cinema HD app on TV, follow these steps:
Go to the Play Store App & type up Screen Mirroring Miracast.
Install the screen mirroring app on your phone.
After installation, open the app and tap on Continue.
Next, you need to click on the option Connect & choose your TV. You are all set now to cast Cinema HD on your TV.